Your First Visit
Please allow 45 minutes for your first visit.
You'll be asked to complete a briefhealth history form that will help us understand your condition.
Feel free to follow the link below to print and complete the form prior to your first visit.
---
Consultation
We will gather more information to determine if your problem is likely to be helped by chiropractic care.
---
Examination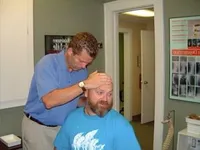 Physical, orthopedic, neurological and chiropractic tests help us further identify and diagnose your problem.
---
X-Rays
X-rays are only taken if determined to be necessary for diagnostic purposes. We can also request x-rays taken elsewhere. Our office does not require x-rays in order to be treated but we will recommend them if we feel it is necessary.